Black Desk Chair Mats
Black Desk Chair Mats are heavy-duty yet sleek in design and a great alternative to typical clear mats and wood desk mats. These rigid black desk chair mats help chairs to roll easily and protect the flooring beneath. Black Desk Chair Mats have sloped (beveled) edges on all sides to help chairs easily roll back onto the floor mat if they happen to roll off. These black chair mats can be placed on both carpet and hard floor surfaces. These desk chair mats resist dimpling thus allowing for easy movements. Custom sizes and shapes are available.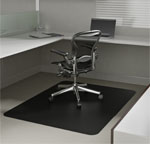 Black Desk Chair Mats offer a simple, classic look and are an attractive alternative to wood and clear office chair mats. These black desk mats have grippers for use on carpet and a smooth backing to help desk chairs easily move on hard floors. These black mats not only help protect the floor but can also help conceal unsightly stains or damage.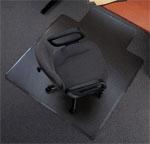 Black Desk Chair Mats offer a simple, sleek design and are an attractive option compared to clear desk mats and wood mats. These rigid black chair mats help chairs easily roll and protect the flooring underneath.

LIFETIME WARRANTY